Thread Recognized as 2022 Best Places to Work
PRESS RELEASE
FOR IMMEDIATE RELEASE
Atlanta, GA – July 11, 2022 – Thread has been named as one of Atlanta's "Best Places to Work" in the Atlanta Business Chronicle's 19th annual ranking of 100 metro area companies. This exclusive list recognizes organizations for having created an exceptional workplace and culture that their employees value highly. Winners of the prestigious award will be honored by Atlanta Business Chronicle at an event on August 31, 2022.
Totaling more than 500 entries, award applicants were evaluated and ranked across four categories according to the number of Atlanta Area employees. This year's results highlight Thread's employee satisfaction in six key engagement areas, including team dynamics, trust in leadership, communication and resources, manager effectiveness, and personal engagement.
When asked their thoughts on the company making the grade, one employee said,
"I go out of my way to recommend our company to others because I am in an organization where I feel heard, where I feel I am making a difference in the company's success - and I believe all of my co-workers feel the same way.

I feel recognized for the work I do, and I have a clear understanding of the company's goals and direction. The transparency is amazing."
Thread helps businesses build high-performance, high-culture companies through an industry-leading, all-in-one workforce management solution and strategic HR consulting. With a focus on service, Thread engages its clients in personalized partnerships. Thread serves businesses in several industries, including healthcare, hospitality, manufacturing, and nonprofit sectors. Thread was founded in 2003 by Lori Winters as Choice Payroll. While the name has changed, the mission to improve the business-to-employee relationship in organizations is still the heartbeat of our company. For more information, visit threadhcm.com
# # #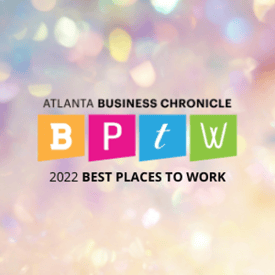 2022 Best Places to Work
Best Places to Work is an innovative publication and awards program produced by Atlanta Business Chronicle. The rankings were determined by surveys conducted by Quantum Workplace, the national research partner of American City Business Journals for Best Places to Work. As the research partner, Quantum Workplace oversees all data collection and analysis involved in naming the finalists and winners of this prestigious program. Quantum Workplace is committed to ensuring Best Places to Work is the most trusted and respected employer-of-choice program in the country.