Thread Recognized as 2023 Inc. Best Workplaces
PRESS RELEASE
FOR IMMEDIATE RELEASE
Thread is proud to announce we have been named to Inc. Magazine's list of Best Workplaces for 2023, with special recognition in the Southeastern region to boot.
ALPHARETTA, GA, USA, May 9, 2023/EINPresswire.com/ -- Inc. Magazine's Best Workplaces list comprehensively evaluates American companies that have excelled in creating exceptional workplaces and company culture, whether in a physical or a virtual facility. This recognition is a testament to our commitment to fostering a positive, growth-minded workplace culture where employees can thrive and flourish.

After collecting data from thousands of submissions, Inc. Magazine selected 591 honorees this year. Each company that was nominated took part in an employee survey conducted by Quantum Workplace, which included topics such as management effectiveness, perks, fostering employee growth, and overall company culture. The organization's benefits were also audited to determine the overall score and ranking.

"We are thrilled to be recognized as one of the best workplaces in the Southeastern region on this year's Inc. Magazine's list," said our founder and CEO, Lori Winters. "Our team at Thread HCM is committed to creating a positive, inclusive, and engaging work environment and culture, and we are grateful for this recognition." At Thread HCM, we believe that creating a positive and inclusive workplace culture is critical to the success of our business. Our commitment to this ideal drives us to create a collaborative and supportive environment that fosters growth and success for our employees.

"We are honored to be among the best workplaces in the Southeastern region, and we are proud of the hard work and dedication that our team has put in to make Thread HCM a great place to work," said our CHRO, Scott Mastley. "We will continue to prioritize our employees' well-being and work to create an exceptional workplace culture where everyone can thrive."

We are excited to be featured in the May/June 2023 issue of Inc. Magazine, which hits newsstands on May 16, 2023, and to be prominently featured on Inc.com. We look forward to continuing to build an exceptional workplace culture at Thread HCM, where employees can thrive and grow.

About Thread
Thread is a trusted leader in human capital management (HCM) solutions, providing cutting-edge software and services to streamline HR operations and enhance employee engagement. Our comprehensive platform offers a range of features, including payroll and benefits management, time and attendance tracking, performance management, and more. Focusing on creating exceptional workplace cultures, we empower organizations to optimize their workforce management, foster employee growth, and drive overall business success. Backed by our dedicated team and innovative technology, Thread is committed to delivering seamless HCM solutions that enable our clients to thrive in the ever-evolving world of work. For more information, visit threadhcm.com.

About Inc. Media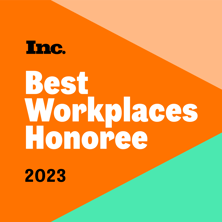 The world's most trusted business-media brand, Inc. offers entrepreneurs the knowledge, tools, connections, and community to build great companies. Its award-winning multiplatform content reaches more than 50 million people each month across a variety of channels including websites, newsletters, social media, podcasts, and print. Its prestigious Inc. 5000 list, produced every year since 1982, analyzes company data to recognize the fastest-growing privately held businesses in the United States. The global recognition that comes with inclusion in the 5000 gives the founders of the best businesses an opportunity to engage with an exclusive community of their peers, and the credibility that helps them drive sales and recruit talent. The associated Inc. 5000 Conference is part of a highly acclaimed portfolio of bespoke events produced by Inc. For more information, visit inc.com.

About Quantum Workplace
Quantum Workplace, based in Omaha, Nebraska, is an HR technology company that serves organizations through employee-engagement surveys, action-planning tools, exit surveys, peer-to-peer recognition, performance evaluations, goal tracking, and leadership assessment. For more information, visit QuantumWorkplace.com.
Work with Thread!
We know how exciting it is to find a company that treats its employees right so they can take the best care of their clients. If you want to work with us in any capacity, let us know here! Maybe you want to partner with us, or maybe you need services, or maybe, you're ready to work at one of the Best Workplaces of the year... we get it! Let us know how we can help below.