Build Your Team and Have Fun While You're At It
Part of our culture at Thread is the idea that we are a team, and another part is that we like to have fun. As such, we plan regular group activities for our crew to stay woven together, and loosen up after a long day, month, or year. Sometimes, it's a small in-house happy hour, other times; it's a big group outing where we take a half day off, but every time we come away from it smiling, relaxed, and happier with each other and our work.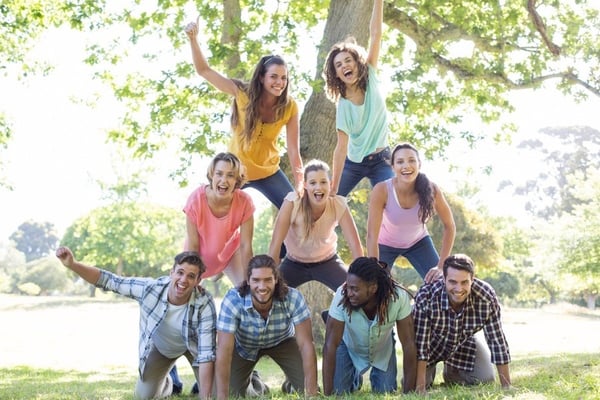 These gatherings whether casual, or structured for team building are essential in our company to continue to build respect, adjust objectives, and create an atmosphere of open communication amongst our staff. We, at Thread, believe every business should incorporate these efforts into their culture to reunite their team and gain insight into the minds of their people.
We understand that not all of these will work for every office environment or size, but it may spark an idea in you - or if you're struggling and need help in boosting your company culture with a group activity, let us know, and we'll help you find something great!
Happy Hour - Fairly obvious here, but for a bonus, incorporate karaoke!
Internal - at Thread, we have a kegerator and wine in the office.
We have a good group of people, when the mood hits us (once or twice a month) we crank up the music and clink our solo cups while engaging in pleasant conversation, dancing and a lot of laughter.
External - We also leave the office for hops because sometimes you need a change of scenery. This one is fun because you can combine it with another outside-of-the-office event, or use it as a way to escape a stern staff meeting prior! If you choose to go this route, try things like going to a local brewery or winery for tastings or a tour. Support your local businesses and try new things.
Spectator Sports -Nothing says team spirit like face paint, hot dogs, and yelling at others whom you can't control! Here are a few fun ones you can incorporate depending on the size of your team/budget.
Go to a baseball (or hockey, etc.) game together - Peanuts and crackerjack, seventh-inning stretch, and supporting your local athletes - an afternoon of fun and excitement.
Support a kid's little league team - This could be a child of an employee or just a random way to have fun on a beautiful day. Maybe throw in a picnic or go for ice cream afterward!
Find Olympic tryouts in your area - cheer on your American heroes and then have a watch party come the next set of games to see if someone you watched made it!
Participatory Sports - watching sports can be fun, but playing sports can be better, and better for you!
Encourage camaraderie and competition in your clan with group sports. It also promotes health and wellness and can boost endorphins in your people, producing happier and healthier employees. Some can be long-term, some are one time things, but all are good for the body, mind, and soul.
Fitbit Challenge - create walkers (not the zombie kind) in your organization. The benefits of walking and other cardiovascular exercise are endless. And it's a low impact sport that almost anyone can do. If you have room in your budget to allow an annual stipend for health costs (maybe you offer to pay for gym memberships, etc.), you could add a Fitbit to the mix one year. Break people into teams, set goals together, and award prizes. We've done gift cards or losing team cooks breakfast for the winners. It is something that is ongoing and keeps us fit and fab!
Topgolf or Bowling - Get together one afternoon/evening and take the team on the town, playing a sport together that not everyone will be good at, but everyone will enjoy. We've done both of these and had a blast at each one. They are go-to when we need to let off steam and laugh together.
Softball or kickball - Or basketball or flag football… Getting out and sweating together, finding a different environment to take direction and see how people work as a team. It can be a one-time thing, or you can join a rec league in your area. Just make sure you get that team photo!
100 Miles Challenge - This is pretty self-explanatory, you and your crew are challenged to walk/run/exercise 100 miles. Some people have the challenge set for one month, but others have it set for 100 days. That's just a mile a day. There's a lot of honor code here unless you're syncing with a Fitbit or something, but reward those who reach the baseline goal and have some more significant prizes for people who exceed it. For example, 10 minutes of cardio equates to a mile, and you could always combine with bowling/golf/softball to ensure everyone has a chance at earning miles.
Brain Games -

finding new ways to strengthen and stretch the minds of your people is a great way to get to know each other's strengths, learn to think outside the box, and refresh the relationships amongst the team.
Escape Rooms - this is something we've done before. It was highly competitive and a lot of fun. Our own Matt Herring came out looking like a madman! We did this after taking assessments of our strengths and then broke into groups accordingly. It was nice because it required us to think, work together, and most of us had never done it before. We will be repeating it in the future due to its success!
Game Night - For a more inexpensive option, you can host a game night/afternoon. Depending on your team size you can play on small teams, or rotate games amongst groups. A lot of people have board games at home and can bring them in, (kid games are simple to learn and nostalgic), and others can provide snacks or a dish to share. Who has the steadiest hands when playing operation? Who is the office artist in Pictionary? Or, the actor of the group can get discovered in a game of charades. Don't forget card games too!
Scavenger Hunt - Get to know your office mates or city with a scavenger hunt. Some companies do professional ones or elect one or two people to make one for your crew. Then break into teams and get to exploring! There are so many varieties of this game, but some include taking photos of what you find, having to interact with strangers, or solving riddles at each stop.
Personality Tests -

get together and host an in-office lunch or breakfast before a staff meeting and take a personality or strengths test!
Depending on which test you pick, these can be very revealing or just plain funny. We've listed some serious ones, but feel free to search for fun ones to try. It can be beneficial for people to realize how to use their strengths, skills, and personalities to their advantage in the workplace.
Achiever - This one is expensive but very worth it to us. This test is intensive and grades people on everything from mental acuity, memory, and vocabulary, to energy level, competitiveness, and motivation. We find it to be relatively accurate and its results can make or break a hire.
Strengths Finder - This test by Gallup breaks down a person's abilities into 34 various strengths and then through a 40-minute test will rank them for you. We take this assessment too, but we only get the top five. All 34 strengths are broken into four main categories: Executing, Influencing, Relationship Building, and Strategic Thinking. It's neat to see if people are a mix or very set in one area of thought.
Fascination Advantage - This is a personality test that helps you realize what empowers you to be fascinating to people. It's free, it has 10+ years of research behind it, and it takes 5 minutes. My results have changed over the last two years: "The People's Champion" and "The Trendsetter." Now, what's yours?
Guinness World Record -

Have someone incredibly talented in your organization?
Think you have enough employees to have the most people popping bubble wrap at the same time? Whatever it is, get together and set a goal, hold practices and then accomplish something awesome together. Who doesn't want to be a world record holder?! Do something unique, and that will be a huge icebreaker for the rest of their lives.
Foodie Stuff -

the way to anyone's heart is their stomach, am I right? Just make sure you've checked for food allergies before starting any of these.
Food tours - search in your area for local tastings or food tours. It's a great way to experience new things together and get to know your city while supporting local business.
Cooking class - depending on your size and budget, there are several businesses that offer cooking classes. From Publix Aprons to other local business cooking classes, this could be a great learning opportunity and something enjoyable.
Personal chef - Hire a personal chef to come to the office cook for you and teach along the way, then everyone gets to go home with a memory, a recipe, and a satisfyingly full stomach.
Cookie swap - this is great around holidays but can be done at any time. Have everyone bake and bring in a homemade treat and do a swap to sample everyone's food.
Go and Do Something Fun!
There are plenty more, and as we try some of these that we haven't yet done, or as we come up with new ideas, we'll update this and let you know. The best part is, you may find hidden qualities in your people; a quiet leader may emerge via competition, or you may see a singer in your group during karaoke night.
Let us know in the comments below if there are any other ideas you think we should try, or if you tried one off this list and how it worked for you! Happy engaging!