iSolved v5.0.03
NEW RELEASE
HCM UPDATES
Enhancement of password security
Enhancement of labor value searches in time entry screens
Acknowledged documents saved with an electronic signature.
User message for PA resident local taxes
ACA status for rehires
Time Updates
Accrual option for birthdays
Multi-week overtime
Time Card Screen Enhancements
HCM Updates
Enhancement of password security
Facing challenges with passwords expirations? Some people are frustrated by having to change their password every 90 days, while others worry about the security of personal data. You asked, and we listened!
iSolved passwords will no longer expire, effectively removing the 90-day expiration period.
Passwords must follow enhanced complexity rules to prevent password hacking. These rules include: minimum length of 12 characters, upper and lower case character.
Spaces are allowed to permit easier to remember passphrases.
Existing users that do not reset their password will expire one last time to force a password change to meet the new password requirements.
When an employee logs in to set or change their password, the following message will appear on the screen:

Please ensure that passwords are a minimum of 12 characters (at least one lower case alpha [a-z], one upper case alpha [A-Z], one numeric [0-9], and one special character. Spaces are allowed, which will support the use of easier to remember passphrases. Going forward, your password will not expire. Passwords may not repeat any of your previous 10 passwords.
Enhancement of labor value searches in time entry screens
If you use the time entry grid or individual time entry screen and you distribute employee time across labor values (charge hours to certain jobs/departments), the lookup process is now much easier.
The drop-down menus return data faster and are now searchable. Starting to type in the value that is needed will return only the data that matches what you are typing, instead of having to scroll through the list to find the correct department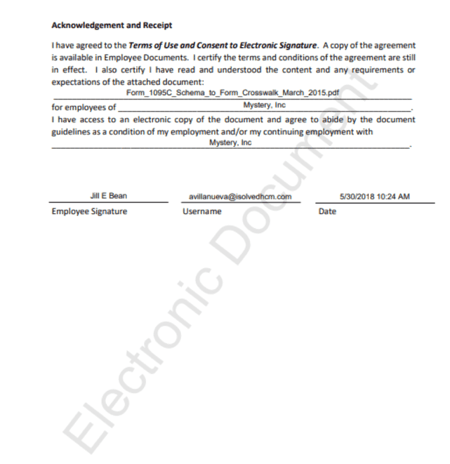 Acknowledged documents save electronic signature
If an employee is required to acknowledge review of a document (benefits manual, employee handbook, etc.), a copy of the document that was acknowledged can now be saved to the Employee Documents and includes the signature, username, and date/time.
This is available for any employer that uses Employee Self Service and requires Electronic Consent.
This signature page will be attached to the original document that your employee reviewed when saved in iSolved.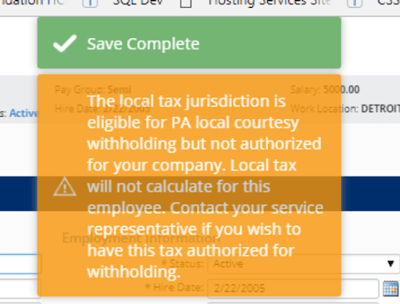 User message for PA resident local taxes
New message to alert employers who withhold PA local courtesy tax to identify unauthorized PA local taxes.
A specific message will display for the employer and self-service employees that are eligible for PA courtesy withholding.
ACA status for rehires
The system now includes the updated length of service, break-in service, and an outline of the ACA rehire guidelines on the Employment History screen.
The ACA measurement period payroll utility now includes a rehire option and will automatically apply the ACA rule of parity for rehires.

TIME UPDATES
Accrual option for birthdays
You can now set up an accrual plan that awards an employee on his or her birthday. To set this up, create a new accrual plan type, create the accrual plan, and select Employee Birthday for the schedule.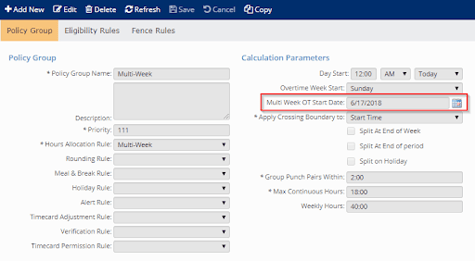 Multi-week overtime
Multi-week overtime functionality is now available, which is extremely beneficial for emergency service agencies and other similar work environments. This new option, "Multi-week OT Start Date" is now available in the Policy Group. The first day of the OT period will begin on the start date you specify.
Within the Hours Allocation rules, we have added a new threshold period, allowing you to define the number of days within the multi-week OT period.
Time Card Screen Enhancements
Several enhancements have been made to the employee time card screen. We have added processing times (in milliseconds) to the Analyze Rules to track performance. We've added the ability to select Labor Group Items on Time Card Adjustments, and added to the Time Card Permissions an option to force labor assignments on Time Card Adjustments. These labor enhancements work the same as current punch and hour form behavior.