iSolved v5.0.02
NEW RELEASE
HCM Updates
Report and Report Writer Updates
Onboarding
Benefit FSA Parking and Transit ESS updates
Garnishments
Pending Benefits on Termination Wizard
Time Updates
User Interface Update for Labor Groups
Search Functionality
Enhanced Time Card by Date Range Report
Fixed: Allowing Accrual to Go into Negative
Geofencing
Time Card Alert Notifications
HCM UPDATES
Report Writer Updates
We added a new report type: Check File. This report type will allow you to create a bank reconciliation report or positive pay file for your bank.
Report Writer now has search functionality! This new functionality will look through all categories and give you a list of all fields that match. Click on the one you want to add to your custom report.
Report Updates
Look for new options when creating a Labor Allocation Detail by Date Range or Labor Allocation Summary by Date Range. New options added include:
Filter by labor value
Page break by labor field (grouping available for up to 5 labor values)
Exclude employees by EE number (i.e. 101, 102, 103)
Onboarding
We added an option to resend the employee authentication email to a new hire. You can find this option under the Pending New Hire Dashboard.
On the Initiate New Hire screen, you can use the search capabilities for the work location drop-down.
Benefit FSA Parking and Transit ESS updates
Your employees can now update their FSA Parking/Transit contributions at any time during the plan year.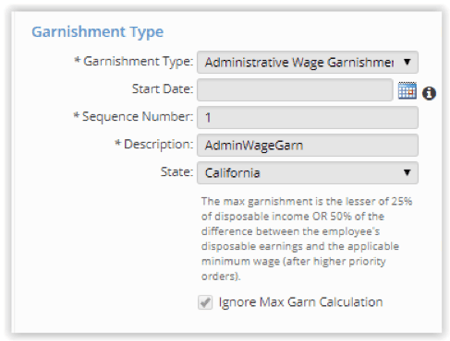 Garnishments
Certain states currently have or will have specific calculation requirements, so this update gives you the ability to cap employee garnishments in those states.

California: The maximum garnishment deduction in California is the lesser of: 25 percent of disposable earnings or 50 percent of the difference between disposable earnings and the applicable minimum wage (calculated using the greater of the state or local minimum wage).
Massachusetts: The maximum garnishment deduction in Massachusetts is the lesser of: 15 percent of gross wages or 50 percent of the difference between disposable earnings and the applicable minimum wage (calculated using the greater of the federal or state minimum wage).
TIME UPDATES
User Interface Update for Labor Groups
This updated allows you to incorporate a hierarchy structure when setting up the labor group. This hierarchy will transfer to time card permission rules and punch/hour entry forms.
Search Functionality
The location-department now has a search functionality on the time card when adding a punch.
Enhanced Time Card by Date Range Report
We added more filters to choose from when running this report:

Policy group
Organization level
Labor
Worked labor
Home labor value

Anyone set up as a manager or supervisor will be included in the drop-down menu for selection.
New sort fields have also been added:

Employee name
Supervisor
Manager
Home org/labor

The Time Card by Date Range report is available under Client Reports and My Reports.
Fixed: Allowing Accrual to Go into Negative
A fix is now in place for the "Don't Allow Negative Balance" on absence policy setup, which will restrict your employees from being able to create PTO requests that put their PTO balances into the negative.
If your company allows negative balances, select "Allow Negative Balance Up To" in absence policy setup.
Geofencing
A new feature will restrict or warn when one of your employees punches through iSolved GO and their location is outside of the fence. This functionality is available to set up but won't be on the mobile app until the next iSolved GO update, which is slated for the end of June.

Warn only: Mobile user will receive notification, but the punch will be recorded.
Restrict: Mobile user will receive notification that they are outside of assigned fence and punch will not be recorded.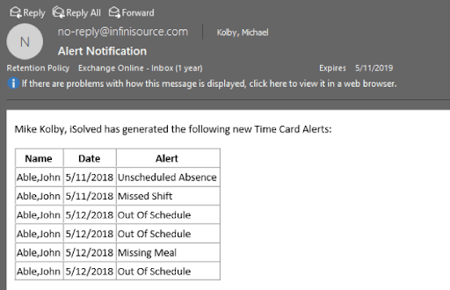 Time Card Alert Notifications
Alert notifications for time cards can be sent via email and/or mobile push notifications. This service must be turned on but there is no additional charge. To turn it on, navigate to:

Client Maintenance > Legal Services > Notify Alerts

After it is turned on, navigate to Client Management > Alert Rules to set up the desired alerts.
Alerts can also be set to go out during your company's operating hours (Set up operating hours in the Legal Company screen).