iSolved v5.0.01
NEW RELEASE
HCM Updates
E-Verify
Benefit updates
Workflow enhancement
Employee garnishment
1099 taxable payment
Time Updates
Meals/breaks options in Employee Self-Service
Time off balance forecasting
Geofencing
Report updates
Suppress email notifications for verification rule
Revised warning message
HCM UPDATES
E-Verify
In the last release newsletter, we mentioned that E-Verify would be coming soon. This feature is now in the certification phase with the United States Citizenship and Immigration Services. When it is approved/certified by USCIS, E-Verify will be added in the following interim releases so you can start using it to verify your new hires!
Benefit updates
This iSolved release brings helpful improvements to the benefits enrollment functionality.

Your employees can now make changes to their 401(k) and HSA amounts, HSA accounts, beneficiaries, and primary care physician through ESS, at any time throughout the year.
This new functionality is set up with a wizard feature – your employee can select what they want to change, and the system will walk them through the steps needed to complete the action.
It eliminates the need for "all year" enrollment periods.
The employee contacts screen now has a flag "Use Employee Address." When an employee changes their address, the contact address will change, which eliminates the need for duplicate data entry and improves the carrier feed process.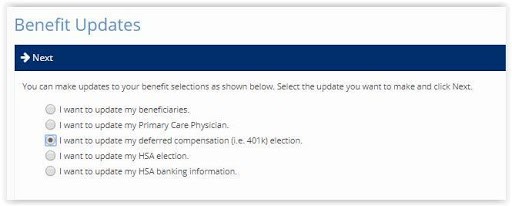 Workflow enhancement
Workflow emails can now be sent without the Approver step.
Managers/supervisors/client users can be alerted of changes to employee data without having to take any action.
Employee garnishment
A start date is now available in the employee garnishment screen.
Users can now enter multiple garnishment orders at one time and use the expiration and new start date fields to manage when one ends and another one can begin.
1099 taxable payment
iSolved will now recognize 1099 earnings configured as taxable at the system level and automatically apply the designated FIT/SIT withholding tax calculations.
TIME UPDATES
Meals/breaks options in Employee Self-Service
New ESS punching options are now available in the Time Card Permission Rules:

Disable meal/break options: Removes meal and break options from ESS punch detail forms.
Restrict meal/break options: Allows meals/breaks to be restricted based on punch duration. You can specify time restriction in hours/minutes, which means your employees can't punch in until the time restriction is up.

Time off balance forecasting
This new functionality in Time allows your employees to see their forecasted time off balances, including pending requests and approved requests. The screen can show forecasted balances for the current plan year and the next plan year.

Geofencing
Geofencing now has a new section for labor, which will automatically assign labor value based on where the employee is located when making the punch. This includes department and job values.
Two new system-level alerts are also available now: Inside fence and outside fence. The alerts will pop up on the employee's time card to show whether the punch was made inside or outside the designated fence. You can apply these rules to your geofencing settings under Policy Group > Fence Rules.
Report updates
The Time Card Report now includes a dollar value in the labor summary section for any adjustments made on time card.
The weekly Schedule Report from the report menu now shows the same version that you will find on the Schedule page.
Suppress email notifications for verification rule
You can now suppress the email notifications that require employees to verify their time cards. Make the change under Client Management > Time Management > Verifications.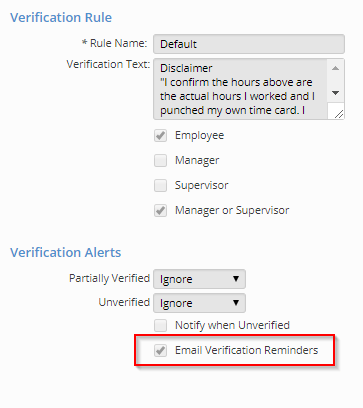 Revised warning message
When an employee has data that can already be seen on the time entry grid, a warning message would pop up if regular pending checks exist. The revised messaging doesn't call out specific employees but offers a more generic warning about pending checks.