Change is Inevitable
Rapid change in job functions can happen at any time thanks to technology, the economy, and newly formed industries. The position of Human Resource Manager or Director is one career that is on the front end of a soon-to-be forever-changed landscape.
"Do HR professionals need to start seeking out new fields because computers are taking over? Only if they aren't willing to adapt and embrace a more fulfilling and promising part in changing how people work."
Automation
With advances in technology and the ever-growing list of things Human Resources professionals have to do, automation can and should be a welcome reprieve from some of the tedious, mundane tasks of that role. Now it's easier than ever to find a software program that can help onboard new hires by putting the paperwork in their hands digitally, remind them to complete it, keep track of their time, and even do the bare bones of a performance review.

But if one software program can do all that, should HR professionals be worried about the security of their jobs? Probably not. While automation can alleviate some of the time-wasting processes the HR department is responsible for, those things aren't all someone in HR is or should be accountable to complete. Instead, finding the right system to automate the ordinary duties of HR can free up plenty of time for the person responsible for employees to focus on the real things that matter in regards to the people in a company.
Employee Engagement
The free time from automating administrative tasks can now focus on where HR is needed most and where it's heading: employee engagement. Between the multi-generational workforce, a more diverse workplace and the push for work-life balance, creating an environment where employees feel valued and appreciated is rapidly becoming a top priority for most businesses.
Now is a perfect time for HR managers to dust the cobwebs from the back of their closed doors and open themselves up to engaging and listening to the employees. It is time for a company pulse check, to understand where people are happy and thriving and what areas are in need of refreshing.
"Studies everywhere show the engagement level is directly related to productivity, so finding ways to make and keep your employees happy will result in a smarter working team."
This correlation is good news for business owners as increased productivity should lead to increased revenue. HR can make this happen by working with management on an engagement budget and connecting with the people to find the best ways to utilize it. Engagement is also vital to HR's increasingly necessary role of marketing its company to potential candidates to recruit top talent that is also a good company fit.
Strategy & Analytics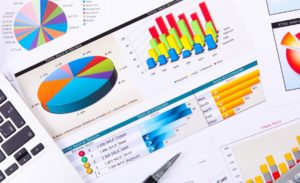 To supplement the new role of HR is data which will play a huge factor in where the profession is heading. It's not enough for someone in human resources to know how to fill out payroll forms that make other people's heads spin, but now those intellectuals will need to learn a new field, and that's in research and analysis.
Strategic thinking will be the connection between HR and the leaders of the company as finding ways to make projections, drive growth and increase revenue will coincide with everything from employee happiness to the best time of year to hire new workers.
"To back the need for employee engagement, automation software, and still keeping the HR department in-house, human resources specialists will now need to know how to accurately analyze the cost of turnover, the ROI on company outings, and productivity levels based on several variables."
Analyzing current employees based on education, strengths, tenure, job function, and the multitude of other data points will play a huge role in determining the right kind of person a company is looking for in new talent. Being able to figure out which data matters and how to capitalize on it will be a crucial job in the not-so-distant-future of human resources.
Specialties
While it appears it would be beneficial now for an HR generalist to also have a minor in statistics, several other specialties are becoming more prominent in the HR department. Things like employment law, benefits and compliance are a foreign language to anyone who didn't specifically study that field.
"Someone in HR who also has experience or education in another related field will be in high demand."
For example, just in the last few months, the number of sexual harassment cases has skyrocketed. As the situation unfolds in the news, it sheds light on women falling victim to unwanted advances. However, going forward, sexual harassment might become even harder to spot due to modern day lifestyles such as same-sex relationships. Staying on the subject of gender roles, another hot topic gearing up for HR is parental leave, including but not limited to paternity leave and leave for adoptive parents.
"Understanding the legal side of these issues and how they relate to a business and its liabilities creates a new opportunity for value in the role of someone who oversees personnel."
More and more companies are recognizing the benefit of remote workers and contract employees, people managing the human resources department are going to need to become well versed with the rules and regulations as well as newfound nuances of this technology-driven movement. Another technology fueled problem to tackle is dealing with employee behavior on the internet.
"While social media is fantastic for a myriad of things, it can also be incredibly detrimental to a company."
From reviews on Google to salary information on Glassdoor, employees have plenty of opportunities to promote or detract from a company's brand and image. This issue is one more reason to encourage HR to embrace interacting with employees and picking up on warning signs before a real problem arises.
C-Suite Status
With the laundry list of growing responsibilities and the benefit of automation software, Human Resources is heading toward a life in leadership. As companies begin to utilize HR to its full potential, allowing elimination of administrative tasks and pushing the focus to personal interactions and strategic analysis and experimentation, HR looks to move more freely to the C-Suite.
"Titles such as CHRO are somewhat sparse compared to other executive roles – but not unheard of – and will see a rise in the upcoming years."
Preparing for this position will require candidates be current on their education and certifications, and accepting of the other movements outlined above to be successful as an executive.
While the field of human resources is changing, remember that change is good. By removing responsibilities that are time-consuming and capable of automation, and shifting the focus of the department responsible for people to actual people, HR has the potential to make a lasting impact on any organization.
The future of HR looks bright, and the time is now to take full advantage, get ahead of the game and change how people work.