Making Your Life a Little Easier with ACA Codes
With the chaotic craziness of every different tax form and the constant changes to ACA codes, it's no wonder we dread filing all these necessary evils. But here at Thread, we're trying to make that a little easier. We've created a convenient guide to help you fill out the 1095-C and keep you compliant!
"The information contained in this document is intended as a guide and is not tax or legal advice. If you have questions, please contact your tax preparer or other trusted advisor when filing forms with the IRS."
A Cheat Sheet for ACA Codes
The Form

Below is Form 1095-C from the IRS website. This guide will explain each piece of the form and help you determine the proper codes for the fields in Part II.

Shown below in blue, Parts I and III are comprised of lines 1-13 and 17-34, respectively. These sections are easy enough, just employee information.
Part II
Shown below in orange, Part II is made up of lines 15-17. This section uses two sets of codes released by the IRS to help employers have consistency when detailing the medical benefits they present to their employees. The codes are used to describe various coverages, offers, and other helpful explanations to avoid penalties each month for the employee on the form.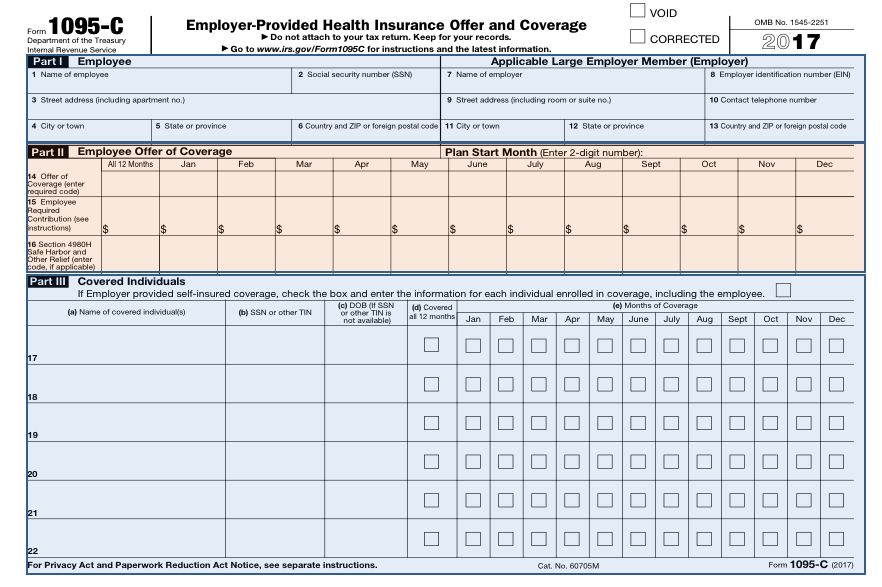 Line 14 – Code Series 1
This line indicates to the IRS whether or not an employee was offered coverage, what options in coverage they were given, and for which months those options were available.

If at any given time in the year an employee is eligible for this coverage, each month needs to be completed regardless of whether or not the employee maintained eligibility or employment.
Note: The IRS is only interested in the cost of employee-only coverage.
Get access to the rest of the content for the ACA Codes: A 1095 Cheat Sheet, including:
The content above plus...
Guides for Code Series 1 and 2.
Step-by-step directions and instructions.
A button to download

EVERYTHING

in a convenient PDF file.