iSolved v5.0
NEW RELEASE
HCM Updates
E-Verify is COMING SOON!
Employer I-9 verification
Onboarding confirmation page
Profile report
Time Updates
Meals/breaks based on gaps in time
Time off requests
Verification change
New reports
New indicator
HCM UPDATES
E-Verify is COMING SOON!
iSolved will be releasing a highly anticipated fee-based feature that makes it easy to interact with E-Verify to determine employment eligibility.
This new tool will allow you to submit new hire information to E-Verify without re-keying.
Added validation and messages in iSolved will ensure the E-Verify data is complete and accurate to avoid delays.
To manage cases as they move through the E-Verify process, a series of dashboards will provide you with new hires to submit, a list of submitted cases, and a historical view of completed cases.
We can't wait to share this feature with you!
Employer I-9 verification
New enhancements to the I-9 verification screen help to improve the view for the employer and offer a better user experience.
Onboarding confirmation Page
We also updated the onboarding confirmation page to simplify the layout and make it much easier to read!
After the employee hits submit, the information is then saved as a PDF, which is stored in their documents within iSolved for easy accessibility.
The PDF includes a date and time stamp of when the new hire submitted the information for auditing purposes.

Employee Profile and Employee Profile with Check Accumulations in Excel
The "As of Date" report type of these two informative reports is now available in Excel. All the date is conveniently delivered on a different worksheet. We were able to remove the 500-employee limit on the Excel version of the report. You can now pull the report for all of your employees.

TIME UPDATES
Meals/breaks based on gaps in time
This new feature makes it easy to create meals and breaks based on gaps in an employee's time card. For example, you could set a rule that if one of your employees clocks out and back in again within 15 minutes, that period would automatically become a break.
The time is variable, based on how long your employees typically take for their meals and breaks.
You can also set it to apply a break or meal if the clock-out period is more than X but less than Y to accommodate for variable times.

Time off requests
New Updates have been made to the time off request functionality within iSolved Time.
Requests for time off can now be made directly from the time card screen. When an employee requests time off, any pending requests will show up on the time card with the pending status.
The time off requests form also has a few new fields, including current plan year and next plan year totals for PTO, and a revised layout to improve the flow for employees as they request time off.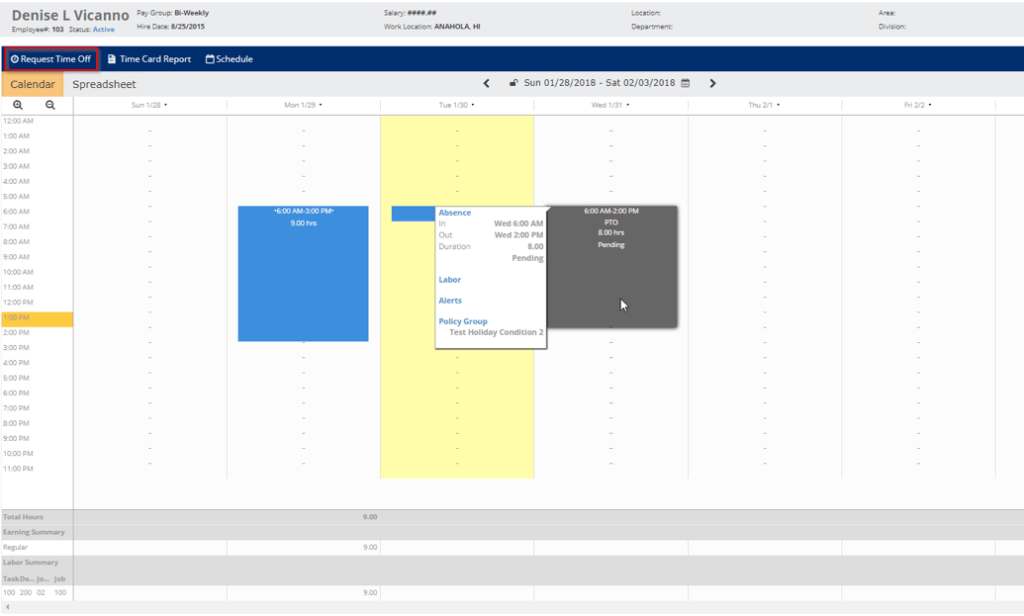 Verification change
You can now allow for manager OR supervisor approval of time cards instead of requiring both the manager and the supervisor to approve.
New reports
iSolved Time also has two new report options. The first is the Policy Group Eligibility report, found under the Client Reports menu.

The second is a much-requested basic version of the Time Card Report. This report displays only simple information about employee time cards, including punches and total hours.
New indicator
On an employee's time card, you will now see a new indicator of either manual entry of a punch or manual modification of the punch. This indicator appears as a dot next to the punch time on the employee's time card.